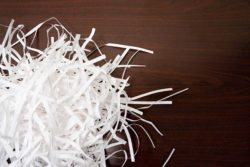 Are the documents in your office being disposed of properly?
You would be surprised how many clients answered, "no." It is easy to let documents containing private information fall into the wrong hands. Whether you leave a note on your desk or miss the trash can when attempting to shoot a three-pointer from your chair; every sheet of paper can contain private information that may end up in the wrong hands. Taking the proper steps to ensure private information is kept private, can benefit you and your company in the long run. Your clients want to know that their information is safe with you.
At BudgetShred, we understand the value of privacy. We offer a convenient, hassle-free pick-up service for residential customers, business offices and corporate facilities in the Maryland, Northern Virginia and Washington, DC area.
When choosing BudgetShred, you can be confident that your documents are secure from the moment of pick up to the final destruction stage. We provide each of our clients with a Certificate of Destruction, so you can be sure there is no trace left of your sensitive information.
Common Security Risk In The Workplace
Unsecured computers– Leaving your work laptop or computer unsecured can leave you vulnerable to a security concern.
Leaving papers on the desk-Leaving private information on your desk makes it accessible to everyone in the office, even after work hours. Be sure to dispose of documents each day or leave them in a secure area that you only have access to.
Employee error- Not knowing what type of information to keep private can be detrimental to your company. If private information is not properly destroyed, it can lead to leaked data. It is important to destroy all private information when you are finished or place them in the designated area.
Get A Quote
Would you like to learn more about our secure shredding services? Contact BudgetShred in Columbia, MD. To learn more, call 888) 669-7997 or get an instant quote online.