Is your business preparing to expand, move or downsize?
Whether you are relocating to your dream office space or location, or if you just need to properly purge your current space of old equipment, BudgetShred offers office clean-out, paper shredding, and computer destruction & hauling services. BudgetShred is your go-to expert in the field of secure, eco-friendly shredding and hauling. Whether you're looking to clean out an entire floor, an entire building or you simply want to remove items in order to reclaim storage space- BudgetShred can help.
"Absolutely, beyond doubt, the best choice for shredding confidential materials. The operation is large, sophisticated, and efficient. The price is right. And, very significantly, it is run/owned by a vet…..in the greater metro Baltimore/MD area, there is no other shredding option that compares." Omi S.
Veteran owned and locally run, BudgetShred was founded in 2008. BudgetShred specializes in all types of secure paper shredding, office clean-out, computer destruction, computer recycling and office waste removal. We provide full service to offices and businesses of all sizes throughout the Maryland (MD), DC, and Northern Virginia (VA), including downtown Washington DC and Baltimore, MD. BudgetShred is fully insured and A+ Rated by the BBB.
BudegtShred Can Help Your Company:
Relocate, Downsize or Expand
Office Furniture Removal & Business Renovation
Cubicle Tear Down and Removal
Full Office Cleanouts
When you select BudgetShred, you choose a company that is committed to your security & confidentiality as well as cutting costs- all while protecting the environment. BudgetShred recycles 100% of shredded paper products helping to reduce your business' impact on the earth. From high-rise offices to family-run business to medical offices, We have experience working with a full range of business sizes and types. We have helped executives, facilities managers, office managers, and property managers get their jobs completed on time and within their budget.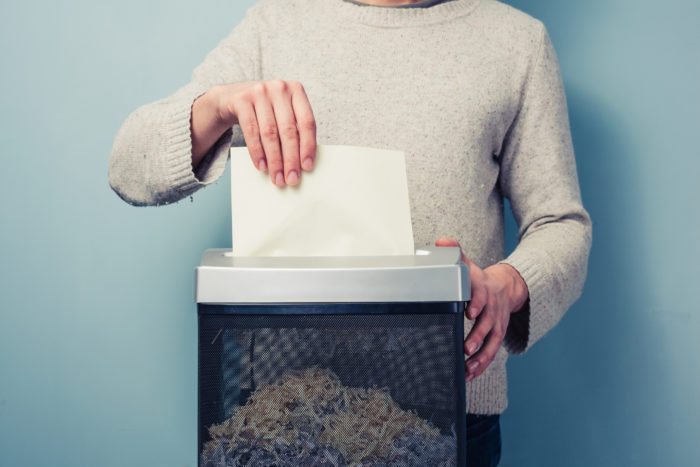 Same-Day Office Cleanup
Call (888) 747-3356 to start your secure and environmentally sound office cleanup today. In many cases, we are able to offer same-day services for office cleanouts and shredding services. Our customer service agents will work with you to detail the scope of your project, offer an over the phone estimate, and schedule your appointment when most convenient for you.
BudgetShred simplifies office cleanup, saving your business time and money.  Our friendly and professional movers can dispose of unwanted items like office furniture, office cubicles, computers, office junk/waste, and other unwanted or unneeded clutter.  We service offices and companies of all sizes in Washington, DC, Northern Virginia, Baltimore, and the suburban Maryland area. Let BudgetShred do your office cleanout or office move, allowing you to focus on what you do best. Call us today and book our expert services!
On-Going or One Time Secure Paper Shredding Services
BudgetShred offers secure paper shredding of full filing cabinets, loose files, and all confidential documents. We offer one-time paper shredding service as well as on-going document shredding packages based on your company's unique needs. Our customer support team will help you determine which option is right for you based on your volume and budget.
BudgetShred provides locked bins at no extra charge to our customers for the secure in-office disposal of sensitive documents. Clients are afforded as much time as they need to sort through their papers and deposit the files they need to be shredded into their bins. Once filled, our staff will pick up the bins on site and take them to be securely shredded and disposed of. Each time your documents are removed from your property, you will receive a certificate after destruction and disposal have been completed.
Give us a call at (888) 747-3356, or request an instant quote online today.