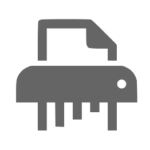 BudgetShred is a leader in the business document destruction industry serving Baltimore  MD, Washington DC, Northern VA and the surrounding metro area. We provide secure document purging and shredding services to meet all of your personal or business needs. We provide one-time shredding or ongoing services on an as-needed basis.
BudgetShred is secure, convenient, affordable, and eco-friendly. Our services include door to door pick up, certified secure destruction, and full-service recycling of 100% of your shredded paper products.
Affordable & Certified Secure Shredding Services
BudgetShred constantly strives to analyze our shredding services to drive down costs and make document destruction as easy as possible for you. Our company is always striving to do better, so we can do better by your company. Our document destruction services are customizable and designed to suit your unique needs. Contact BudgetShred for a free over the phone quote to get started today.
Bins & Consoles
We provide secure and locked bins or consoles for paper and document disposal. Bins and consoles are attractive and come in many sizes, colors and shapes to suit your unique office design and document disposal volume. Bins and consoles are provided at no extra to the customer. Bins make it easy and secure to dispose of sensitive material and provide for fast and convenient pickup.
Business Services
BudgetShred offers document shredding, digital media destruction, and equipment and office clean up services to business in Baltimore Maryland,Washington DC, and all over Northern Virginia. We help business purge unwanted and outdated e-waste and securely destroy all digital media trails.  We can also haul away unwanted furniture and clear out cluttered office spaces.
Routine Services
We offer routine scheduled pick up of bins and consoles for hassle-free document shredding. You can set up a pickup schedule with our customer support team and one of our bonded drivers will retrieve your bin, transfer your documents, securely destroy your material and send you a certified letter of destruction.
Electronic & Media Recycling
Electronics are loaded with dangerous and harmful chemicals. It is every business's responsibility to ensure that old and outdated equipment and electronics are properly disposed of. BudgetShred can take the stress off of you- we can pick up, haul away and responsibly recycle all old office equipment.
One Time Purge Services
We offer one-time document, office or e-file purge services. If you have a backlog of documents you need to be destroyed, call BudgetShred for your next day shredding and recycling needs.
Paper Recycling
BudgetShred is cost-effective and environmentally conscious. We recycle 100% of shredded paper materials. We will also haul away and recycle cardboard boxes and other paper materials.
Residential Services
We help small business and home offices in MD, Washington DC, and Northern VA handle their document destruction. From small volume to routine shredding services, BudgetShred offers competitive rates for residential paper shredding  services.
Off-Site Shredding
BudgetShred offers the lowest document destruction rates in the region. Our off-site secure shredding facilities make it possible to keep overhead low and costs down. All of our document or electronic media destruction services are certified and performed by ex-military United States veterans who operate with the highest level of confidentiality.