We Recycle 100% of Your Paper Products.
Secure document destruction and recycling is our priority. When you need a trustworthy, efficient, and eco-friendly document destruction company call BudgetShred. BudgetShred is Maryland (MD), Virginia (VA) and Washington DC area's premier environmental friendly paper shredding company. We recycle 100% of the paper we shred.  We pick-up your documents using vehicles that consume 50% less fuel than traditional on-site shredding trucks.
Our goal is to sustain business practices that preserve our environment for future generations.
---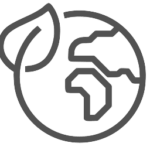 Did You Know?
For every 2000 lbs (1 ton) of paper recycled you can save: 
17 Small Trees
3 Cubic Yards of Landfill Space
7,000 gallons of water
---
BudgetShred values the environment as much as your company and your clients do. We work hard every day to help protect the earth by recycling and reducing waste in landfills. Our commitment is to continue evaluating our business to help make your business more efficient and as eco-friendly as possible. We recently added a second location in close proximity to all Baltimore, MD area communities to help save on fuel and emissions.
We recycle computers, hard drives, and electronics
In addition to secure documents, BudgetShred destroys and safely and responsibly recycles computers, hard drives, and electronics. We dispose of electronics in accordance with proper recycling guidelines, helping to eliminate unnecessary or harmful waste in landfills.
---
BudgetShred Saves
Because of our committed customers, just last year BudgetShred conserved:
Over 8,500 Trees
1,500 Yards of Landfill Space
3,500,000 Gallons of Water
---