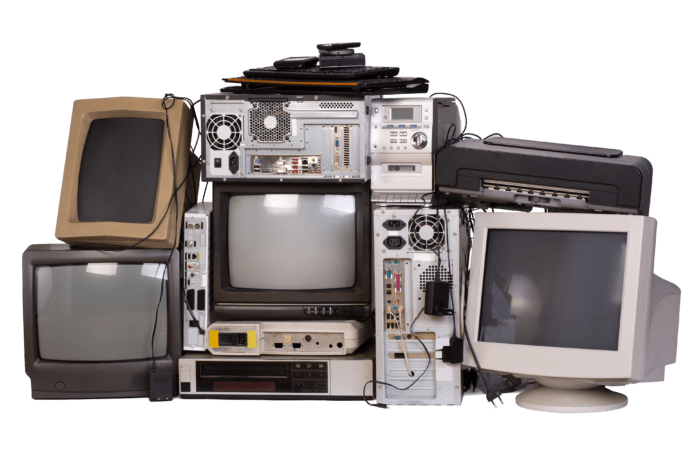 Secure & Safe Electronic Recycling
Your company is legally liable to properly recycle old office equipment. BudgetShred can securely destroy your electronically stored information and safely recycle your old electronic equipment. We offer secure hard drive removal and destructions services. Computers, printers, monitors, cell phones, and other electronic equipment contain dangerous chemicals and should not be sent to landfills. BudgetShred will pick up and ethically dispose of your unused or unwanted electronics.
---
Did You Know? 
There are toxic and dangerous materials in computers and electronics?
The incorrect disposal of out-of-service computers and electronics represent one of the planet's fastest-growing waste hazards.
Lead – cathode-ray tubes, solders (a standard display monitor contains 4-8 pounds of lead to shield against radiation)
Cadmium – printed circuit boards, semiconductors, batteries
Mercury – batteries, switches
Chromium – corrosion protection in steel
PVC plastics – housings and cables
PCB's – older capacitors and transformers
Brominated flame-retardants – printed circuit boards, cables and plastic casings
---
Responsibly Recycle Old Office Equipment with BudgetShred
Tens of millions of computers alone become obsolete in the United States, every year. And fewer than 10 percent are recycled. Discarded electronics contain lead, mercury, cadmium, flame retardant plastics and other materials. Electronics disposed of improperly posing a serious health risk to humans, animals, and the environment. BudgetShred can help your business destroy digital data and properly dispose of your old electronics.
BudgetShred strictly follows all U.S. Department of Defense standards, complying with the highest level of security possible. Once all digital materials and data have been organized, packaged and processed, you receive a certificate of recycling and destruction, making your company legally compliant with regulations governing the recycling and destruction of electronic data. If you're still concerned about your liability we can even take legal title to your computers.
---
Did You Know?
Your company can be held liable for the improper disposal of computers. Electronics are classified as hazardous waste.
In Maryland, Virginia, and Washington DC, unwanted computers are classified as hazardous waste. Businesses, organizations, and their owners are required by law to dispose of them as hazardous waste unless they are recycled through a recycling company registered with the state Department of Environmental Conservation.
Your business or organization will be liable and subject to large penalties for any computers and electronics that are not properly disposed of or recycled.
---
Environmental Regulations
In addition to protection from privacy and confidentiality breaches, computer recycling provides a solution that ensures companies are safe from the environmental liability associated with disposing of electronic equipment. Environmental regulations such as the Resource Conservation and Recovery Act (RCRA) make businesses liable for hazardous waste found in electronic equipment "from cradle to grave."
Recycling your old electronic equipment helps to reduce waste and prevents dangerous chemicals from leaching into our water and ground. BudgetShred offers convenient, economical, and environmentally responsible services for recycling your obsolete computers and office electronics.
---
Fun Facts About Recycling
When electronics are properly recycled their old parts can be reused.
When recycled, your old equipment is often given new life. Many parts of your computers can be reused or repurposed.
Circuit boards – can be used for their metals, copper, lead & salvageable chips
Monitors – can be used for new leaded glass, and lead for batteries
Metal cases, parts, wires – steel, copper, aluminum can all be salvaged from old electronics and reused
Batteries – can be leach mercury, zinc, nickel, cadmium- all can be reused when recycled
Mercury switches – mercury can be salvaged from old mercury switches and used in new ones
Plastic – can be melted down and made into new plastic products, plastic can also be used as fuel for electricity & steam
---
Secure & Certified Electronic Recycling
Every member of our secure computer destruction team conducts the recycling and destruction process with professionalism and discretion. All members are bonded, drug tested, background checked and have signed a binding non-disclosure and confidentiality agreement.  BudgetShred can dismantle, destroy and remove all digital media and equipment is a safe and highly-secure manner. If you have old office equipment that needs to be disposed of in the Baltimore, MD, Washington, DC or Northern Virginia area, contact BudgetShred for a free quote today.