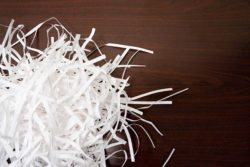 Working in a law office, you often have to handle sensitive, confidential documents. When sensitive documents get into the wrong hands, it can be detrimental to your client and your business. Enlisting the help of a professional, secure shredding company will ensure that your legal document never falls into the wrong hands.
Finding a consistent service to discreetly and carefully shred your legal documents can save someone in your office time. BudgetShred offers a full range of shredding services. Depending on your needs, you may opt for our routine shredding services or a one-time purge services. Our team works with you to ensure your sensitive documents are properly disposed of.
Budget Shred: Services We Offer
One time purging services: One-time purging services for files, documents, and office equipment for business and residences in Baltimore, MD, Washington, DC and all of Northern, VA. We send our GPS-tracked vehicle to your location to pick up your documents.  From there, we transport your documents to our closest facility where they are destroyed. The entire process is monitored by one of our founders and owners- who are ex-military veterans. Once your documents have been destroyed, you will receive a certified document of destruction.
Routine shredding services:  Our routine paper shredding services can be provided weekly, bi-weekly or monthly based on your unique needs. Budget shred offers routine pickups and disposals of your documents. We offer document disposal bins or consoles at no extra charge and provide on-site pickup, secure transportation and certified destruction of your legal documents. Our paper shredding services are designed to provide the most cost-effective, convenient shredding services possible for businesses around Baltimore, Washington, DC and northern Virginia.
BudgetShred complies with all regulations and security laws put in place by medical, CPA and law offices. We provide clients in these industries with Business Associate Agreements and comply with all HIPPA, NPI and GLB requirements at no additional cost.
Get A Free Quote
To learn more about our services at BudgetShred, call (888) 669-7997 or get a free quote online.