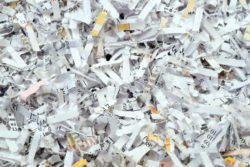 BudgetShred offers business and residential document destruction services in Baltimore, Washington, DC, Northern VA and the surrounding metro area. We provide secure, complete document shredding services to meet all of your personal and business needs. We provide one-time shredding or ongoing services, depending on your individual needs.
BudgetShred offers secure, convenient, affordable, and eco-friendly shredding services. Our services include door to door pick up, electronic and media recycling, one-time, off-site shredding, purging services,  certified secure destruction, and full-service recycling of 100% of your shredded paper products.
---
See what our customers are saying about their experience with BudgetShred!
"I have been very pleased with Budgetshred LLC. I started using them back in 2010 or so. They are very pleasant and friendly and they always do a good job. They have very reasonable prices also. I would recommend Budgetshred LLC to anyone who needs a good shredding company." -K. H
"We're a small pediatric medical office with a small amount of paper to be shred but which must be done in compliance with HIPAA. Among the companies we considered, Budget fit our budget the best, arrived on time and did everything they said they would do, including the issuance of a certificate of destruction. I have no hesitancy in recommending Budget for service and reasonable rates." -J.C
"I could not be more pleased with this service. They were on time, courteous, and reasonably priced. I will absolutely use them again and recommend them to everyone. Bravo to a well-run company!"-C.C
"I've dealt with them for more than 6 years now. An outstanding team of people. They are professional, accurate and always on time on the schedule. Their price is good too. I even overpaid them by mistake and they quickly reminded me that I didn't have to pay. They have honesty as their main business policy. It's a pleasure to do business with them." -J.N
Get A Free Quote
If you would like to learn more about our Services at BudgetShred, contact our Columbia, MD office. To get your free quote, call (888) 669-7997 or get an instant quote online.