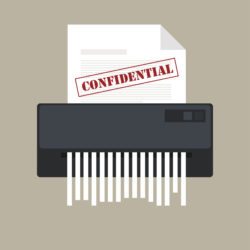 Our team at BudgetShred in Columbia, MD is all about offering the most convenient, cost-effective services for our clients. BudgetShred offers a one-time purging service for files, documents, and office equipment for business in Baltimore, MD, Washington, DC, and all of Northern, VA. For clients who need a one time service, BudgetShred can work with you to deliver fast, secure shredding services. BudgetShred can send one of our experienced drivers to pick up unwanted documents at your chosen location.
Our trucks are GPS tracked, locked, and secured to safely transfer your unwanted files to one of our secure shredding facilities. We also offer a one-time electronic file disposal service. Our team at BudgetShred can carefully and securely destroy any unwanted digital files on or off-site. The process of unwanted document disposal is overseen by one of our experienced owners and founders. Once the disposal process is completed, we will send you a Certified document of destruction.
One Time Purging Services
For clients who have enlisted our help for a one-time purging service, we will pick up any sized container filled with unwanted documents. We also offer a one-time office cleanout services. We can safely and properly get rid of unwanted furniture, electronic equipment, and filing cabinets. The price of the one time purge will depend on the volume of materials.
Get A Free Quote
To get a free file or electronic file destruction quote contact our experienced customer support team at (888) 669-7997. If applicable, some clients can even get an instant quote online.