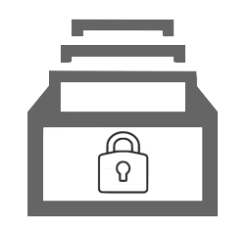 BudgetShred offers routine paper shredding services in DC, Maryland, And Virginia. Whether you need weekly, biweekly, or monthly shredding series, BudgetShred can work with you to find the right solution that fits your needs. We also supply document disposal bins at no extra charge. Your documents will be transported in a secure vehicle and appropriately disposed of.
If your company routinely handles sensitive information or documents, BudgetShred routine paper shredding service may be right for you. We take your security seriously and work with you to find the right service for your business. We guarantee quick, safe, and effective shredding services and recycle 100% of your documents.
We offer a wide selection of secured and locked containers and bins to store your documents in. One of our experienced customer service representatives can work with you to determine which container or bin is right for your business. We want to ensure that your container or bin is the right size for the volume of documents that flow through your business on a weekly, biweekly, or monthly basis.
Once you have decided on a container, we will discuss how frequently you would like your containers picked up. At BudgetShred we are committed to the security and proper destruction of your sensitive documents. Each of our drivers undergoes an extensive background check in order to drive our GPS tracked and locked vehicles.
Once your documents make it to our secure facility, we will carefully destroy your documents. Once your files are destroyed you will receive a certified notification an and invoice.
*For your security, BudgetShred complies with all regulations and security laws put in place by medical, CPA and law offices. We provide each of clients with Business Associate Agreements and comply with all HIPPA, NP, and GLB.
Would you like to explore your options, contact BudgetShred today for a free quote!