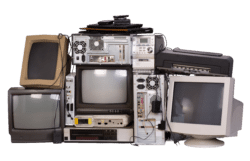 Do you have no longer needed computers or other electronics taking up room at your business? Getting rid of old electronics frees up space and can also prevent your business's sensitive digital data from falling into the wrong hands. However, because of the privacy, environmental and legal risks of electronic waste, it's important to dispose of this equipment properly. BudgetShred can securely destroy your digital data and recycle old electronic equipment responsibly in Baltimore; Washington, DC; Northern VA; and the surrounding metro areas.
Don't Let Your Data Fall Into the Wrong Hands
Unused electronics can be a liability for your company if they contain sensitive information. Keeping them around puts you at risk for privacy breaches. Simply deleting documents or resetting hard drives won't destroy all of your data, so it's best to let professionals handle your digital data destruction.
Electronic Waste Can Hurt the Environment 
Even though you should get rid of old electronics, sending them to a landfill is never a good idea. Most electronics contain hazardous materials that can leach into the water and ground, posing severe health risks to humans, animals, and the environment.
Improper Disposal Can Hurt Your Business
Because of the environmental risks posed by electronic waste, the government strictly regulates the disposal of this equipment. By law, electronics must either be disposed of as hazardous waste or recycled through a recycling company registered with the state Department of Environmental Conservation. Businesses that don't follow these procedures can face severe penalties.
BudgetShred Can Help
BudgetShred offers convenient, cost-effective and trust-worthy data destruction and electronic recycling services. We completely and securely destroy your electronically stored information. Your old electronics will be responsibly recycled in accordance with all applicable regulations to prevent harm to the environment. Once the process is complete, you will receive a certificate of destruction and recycling, making your company legally compliant with regulations governing the recycling and destruction of electronic data.
Get a Free Quote
To learn more about how BudgetShred can help you dispose of unused electronics, contact our Columbia, MD office. To get a free quote, call (888) 669-7997 or get an instant quote online.